An académie is an observational figure study drawn from a live model over many days such as that of French artist Pierre-Paul Prud'hon, who used drawings as the foundation for his work.
The practise was established as a way to develop mastery of the human form and was a central tenant of the curriculum in classical art training in early 19th-century France, and other countries. It was an exercise required of all students at all académies, hence the name. This practise came about because, before learning to paint, the student had to first demonstrate their proficiency in drawing the body. Some of the pieces on this site (see Figures) are a modern response to this historic practise. The process of académies has been at the heart of artistic training for groups as diverse as the Mannerist, Rococo, Neo-Classical and the Romantic artists. It can be seen as a measure of continuity that has held European art together for over 500 years. Taking this as my path, some years ago I too set this as my primary task. That is, to reach a proficiency in drawing the figure before I started to paint the figure. It did take me some time to find a place in Europe that had an ethos that chimed with me.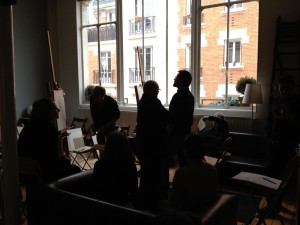 That place was the contemporary classical drawing studio in Paris of  Studio Escalier, a private studio art school and international arts colony in France, founded in 2001. The Paris based drawing courses (as opposed to their painting course, which are not in Paris) take place in the first Montmartre atelier of Henri de Toulouse-Lautrec, where he first met Suzanne Valadon, and at the Louvre. The courses are designed and directed by artists for artists, and are dedicated to the contemporary classical study of drawing and painting from life. But, the teaching is not only focussed on drawing and painting per se, but also on the development of enlightened creative vision, and the expression and definition of humanity through pictorial form. To find out more and read about its artistic mission and creative vision,  click here.